First and foremost, it is her love for India that took her heart at the young age of 17.
And it is only after a few trips to the mother, that a foot was set on a yoga mat.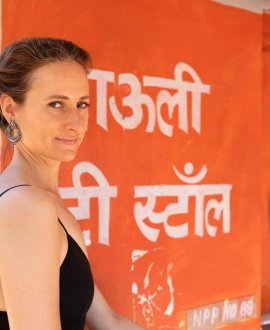 At first, resisting the thought of doing any sort of physical practice that coud be associated to an esoteric path, Joanna dived deep and still immerses herself yearly in diverse programs as well as teachings linked to spirituality and yoga in a broad sense.
The desire to be a student is still prevalent to her more than anything else, thus roams the world to meet with inspiring keepers of the ancient knowledge.
Her journey started with the alignement based practice of Iyengar and visited many times in Rishikesh Usha Devi to further understand some Asana technics. In parallel practiced as well as was trained in traditional Hatha Yoga in India.
Yet once she in the most serendipitous way came across Ashtanga Yoga in Mexico, there was no way back from the system. Joanna is also steeped in the studies of the ancient traditional texts, philosophy as well completed the Jivamukti teacher training.
A decade of alignement based practice, over a decade of the dynamic energetics of Ashtanga with some most renowned teachers and 12 of teaching around the globe.
Joanna pours her heart into every class she gives, conveying the messages passed down to her by her teachers to the best of her abilities.
Classes are taught vocally only, adjustments given when necessary and most times music is played during her classes.
She is known for her original and wicked yoga playlist.
Join me!